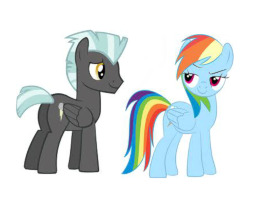 Rainbow Dash has it all: friends, fame, and a dark past, riddled with lies and broken bonds.
Thunderlane also has it all: a brother, friends, and a dark past, filled with neglect and sadness.
But through it all, Rainbow Dash and Thunderlane have become close friends; friends whose pasts intertwined and became a long-lasting bond.
But how close is too close?
Do they have feelings for each other?
Their relationship will be strained. It will be tested.
It will never be the same.
Chapters (4)