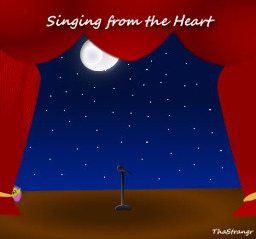 Fluttershy has a problem. She is in love with one of her best friends, and has been for quite some time. She wishes every day to suck up all of her fears, and bleed her heart out to this mare. But she is too afraid. She may find the perfect opportunity, however, as a new tradition is begun in Ponyville. Perhaps if she cannot speak the words, she can sing them in Ponyville's approaching talent show.
I'm making this series into a comic series, along-side the fics. First Page!
(Just permissions 'n stuff)
Nyx is from Past Sins by Pen Stroke, as everyone should know by now.
Chapters (6)