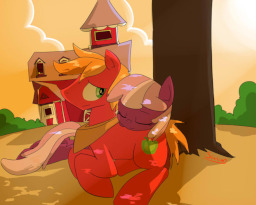 Source
When Big Mac's mother and father died, Mac was forced to drop out of school to take care of work on the farm. As such, he never got the chance to learn how to read. It had been a lifelong struggle for him, until accompanying Apple Bloom to Parent Teacher Night provided him an opportunity to learn. As Cherilee teaches Mac how to read the words on the page, he also learns how to read the words in his own heart. Mac never realized that being able to read would give him so much happiness, until he realizes that it's Cherilee he loves, not just the books. He realizes that anything is possible as long as you have the support of somepony who loves you.
NEW EDITION! RE-EDITED AND PARTIALLY REWRITTEN! YAY!
Big Mac X Cherilee, nonexplicit, sweet fluffy oneshot. Somewhat different than my usual tone, but I needed a fluff piece to keep me sane. Also, THERE IS NOT ENOUGH BIG MAC X CHERILEE FICS. FIX THIS, SOMEPONY.
Chapters (1)