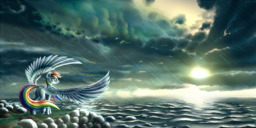 Source
When Twilight Sparkle is kidnapped by pirates, Princess Celestia and the other elements have no choice but to put their trust in an infamouse pirate captain and his crew in order to get her back. How will the Mane six fare on the high sea's and what happens when a certain cyan mare falls for the captain? Join the Elements as they embark on an adventure filled with action, romance and forbidden magic that could shake Equestria to it's core.
AN: Inspired by 'Big Mac's Dream Journal'
One of my all time favorite fics.
Chapters (6)