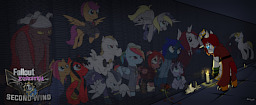 Source
This story is a sequel to Fallout: Equestria - False Dawn
---
''The Equestria you knew and loved is gone''--This tired old phrase needs no reintroduction. Set in the same world as FoE written by Kkat, this story explores another tale that ended in sadness and left so many unanswered questions. When second chances are almost unheard of, one soldier that made the ultimate sacrifice will find himself in a world that moved on without him, seeking an end to his story with absolution. Oaths are sacred and promises must be kept--Even if they don't matter to anyone else but the dead. Also, friendship.
I do not own FoE and I am writing this without permission. Kkat is a great author and I was inspired to write my own story based off her work on FoE.
I also do not own Fallout and am doing this as a work of fiction for no revenue whatsoever.
FoE © Kkat
Fallout © Bethesda
Project Horizons © Somber
MLP © Hasbro
DHX © Themselves...I guess.
Chapters (22)