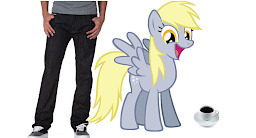 [Second Person][Romance][Comedy][Human]
Just an average morning with your favorite mailmare and her daughters, Dinky and Sparkler, the ponies that you value with all your heart, as they do with you. From the moment you met them all, they had favored you as a caretaker, parent, and even a life partner for that very special somepony that just so happens to be called Ditzy Doo.
As you, a Homo-Sapiens translator well-accustomed to Equestria and its language, prepare for your day and the meals of your favorite fillies and beloved cross-eyed mare, you attempt to keep your sanity...
...and Ditzy away from the coffee.
Chapters (1)