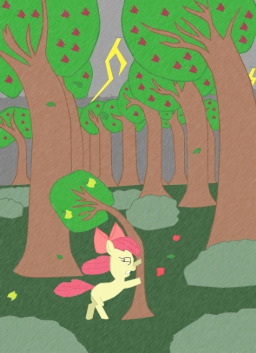 Apple Bloom has cared for Tennyson the Tree since he was nothing but a seed, and now he's beginning to grow his own apples.
Proud of Tennyson, Apple Bloom leaves him for another night. When a nasty storm comes to Ponyville, however, she finds herself braving the storm in order to save him.
One-shot. Image drawn and colored by Not Worthy.
A special thank you to Calligraphy, KartalTheWriter, and DawnFade for looking over the rough drafts for me. Special thanks to DawnFade for also looking over the second draft. I must also give a thank you to Peregrine Caged and Daetrin for their input.
Chapters (1)