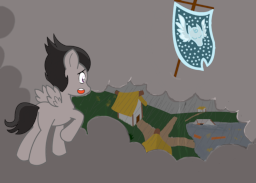 Rumble doesn't need much to be happy. He has his friends in the simple town of Ponyville, a nice school he goes to, and his older brother Thunderlane to take care of him. Sometimes he would do dangerous things—like participate in the creation of a hurricane—but that was usually along with his brother to watch out for him. Rumble was content with his simple life.
His simple life, however, is taken from him when storms begin cropping up all over Equestria. Couple that with the disappearance of his brother and the Wonderbolts, as well as the appearance of a mysterious group of ponies, and Rumble has no choice but to leave his simple life behind. He must go around Equestria to try and stop the malevolent force from ruining the land—and to find Thunderlane.
---
Special thanks to bookplayer for looking over the initial concept for me. I'll try and do this story justice.
Chapters (2)