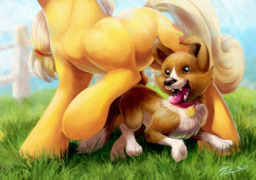 Winona is the Apple Family's sheepdog puppy. They adopted her from a shelter after she was abandoned by her previous owners and left to fend for herself as a stray for a while. The dog has been displaying strange behaviour during the fall of night and after this odd behaviour pattern carries on for a few weeks, it's blatantly obvious something isn't quite right with her.
When the family grows concerned for their family pet, Applejack and her two siblings decide to take her along to Fluttershy's cottage in hopes that she can communicate with her and find some answers as to why she is acting so strangely. Unfortunately, what they find out turns out to be rather heartbreaking.
DISCLAIMER: This is an unofficial origin story. It was inspired by a true story of similar events.
============
Credit for cover art: https://www.deviantart.com/tsitra360/art/Winona-645824133
============
Featured: 16/02/21 - 18/02/21
Chapters (1)