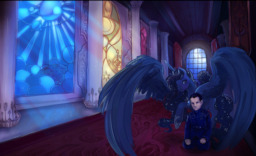 Source
During an attempt to escape from her lunar prison, Nightmare Moon unwittingly pulls something into her dimension that doesn't belong. In doing so, she sows the seeds of her own defeat. Now Luna must deal with the consequences of her other persona's actions.
An Ender's Game crossover exploring common themes of regret and redemption, this story takes place parallel to Seasons 1 and 2. Knowledge of the book is NOT required.
Thanks go to the wonderful and talented Companda for creating a beautiful cover image. The FIMFiction-sized version really does not do it justice. Please take the time to view it on DeviantArt by clicking the source link; you'll be amazed at the level of detail she put into this picture.
Chapters (9)