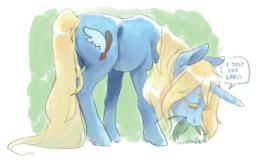 Source
Saturday was a day to unwind, a day to sleep late, to eat brunch instead of breakfast, go out to the lake, or to invite friends over for a barbeque. Unless the lawnmower was broken and Ms. Bundermann is on the prowl.
Having a unicorn friend doesn't help fix the lawnmower, but friends of friends can make short work of the lawn. It's technically not a barbeque if the grill isn't on, but with a whole herd of ponies nomming the grass and musicals on the boombox, with a selection of drinks to suit everypony's taste, it's close enough.
---
Now with a reading by StraightToThePointStudio!
Chapters (1)