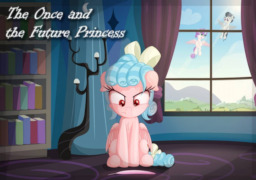 Source
This story is a sequel to Castling Cozy Glow
---
For one day, Cozy Glow was a Princess, and she has vowed to become one again as Twilight's personal student. It may take time and it may not be pleasant, but she is a headstrong filly who never gives up, no matter who or what comes in her way.
Having been born an alicorn, Flurry Heart is destined to become a Princess one day. Such a burden is heavy for a filly, and it is imperative that she learns to carry it. Fortunately, Twilight Sparkle has agreed to teach her and help her grow. With her unending kindness and bright optimism, Flurry is sure to succeed.
One filly who lost everything, and another who was born with everything. But even that's not all. There is a colt too, and whether he realizes it or not, his actions will have consequences.
Can Cozy Glow and Flurry Heart learn to become friends and help one another grow, or are there some gaps that not even the magic of friendship can bridge?
The cover art and proofreading was done by the amazing Vito, who is also on Deviantart.
Chapters (20)