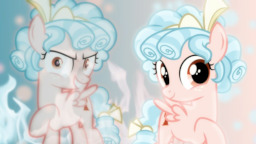 Source
Three months after defeating the combined forces of Chrysalis, Cozy Glow, and Tirek, Starlight holds a brief meeting with Twilight. The guilt of not being able to save Cozy Glow and the personal anger that she was given a second chance when Cozy wasn't causes Starlight to demand the filly's release. Twilight agrees to it, and accepts Starlight's proposal to take in the troubled filly.
Meanwhile, Twilight begins to deal more heavily with the oncoming minotaur threat, completing her plan with the gracious help of Sunburst. Anxiety, worry, and stress all weigh her down to the point of breaking completely.
Finally released from her imprisonment, Cozy Glow resists the encouragement and reformation pressed forward by Starlight. Increasingly frustrated and angered by her surroundings, she begins plotting her escape, using the knowledge and experience of her past mistakes and time imprisoned. However, everything changes when a new element, and new knowledge of the fate of her and Equestria, are introduced to her.
Additional tags include trauma.
Extra characters include
Princess Cadance
Shining Armor
Flurry Heart
Main Six
Trixie
Thorax
and Changelings.
Part of the HoE storyline.
Chapters (5)