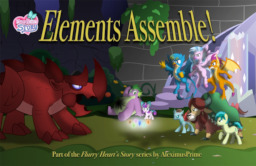 Source
Years after Princess Twilight Sparkle's coronation, a young Flurry Heart longs for adventure and to learn friendship lessons like her aunt. Her royal life in the Crystal Empire has become boring and predictable, so Shining Armor and Cadance decide to allow her to spend some time in Ponyville. After meeting up with Spike and getting settled in, a new villain appears, seeking to cause terror to all of Equestria. With little time to think and the new Tree of Harmony coming under threat, Flurry must find a way to stop this rampaging creature.
Next story: Cheesy as Pie
Inspired by the official show, this is part of a fan-made sequel series I created called "Flurry Heart's Story", which documents the adventures of Flurry Heart as she makes friends and faces new and familiar villains, some of which may still be redeemable.
Flurry Heart's Story and its author are in no way associated with Hasbro or any of the creative team behind My Little Pony: Friendship is Magic. This series is entirely fan-made and is created in honor of the official show. No copyright infringement is intended or encouraged. Please support the official release.
Chapters (9)