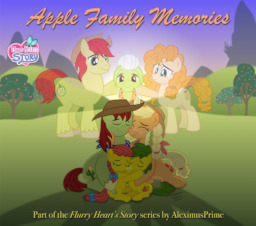 Source
This story is a sequel to Flurry Heart's Story: Villains Anonymous
---
Flurry Heart is taken to Sweet Apple Acres to see Applejack's twins, Apple Chip and Annie Smith. While Chip seems to be warming up to Flurry, Annie is having a tough time dealing with the fact that Granny Smith (whom she was named after and was really close to), passed away not too long ago. Flurry and her other friends must find a way to cheer Annie up and let her know things will be alright even without her beloved great-grandmother, they just have to figure out how to do it right.
Inspired by the official show, this is part of a fan-made sequel series I created called "Flurry Heart's Story", which documents the adventures of Flurry Heart as she makes friends and faces new and familiar villains, some of which may still be redeemable.
Next story: Dream of Alicornication
Flurry Heart's Story and its author are in no way associated with Hasbro or any of the creative team behind My Little Pony: Friendship is Magic. This series is entirely fan-made and is created in honor of the official show. No copyright infringement is intended or encouraged. Please support the official release.
Chapters (5)