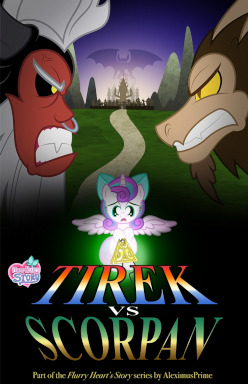 This story is a sequel to Flurry Heart's Story: Let My Ponies Go!
---
Right after meeting with Twilight Sparkle and Spike, King Scorpan is attacked by his vengeful brother Tirek who immediately assumes control of the Midnight Kingdom. While Twilight and Spike try to muster the Elements of Harmony, the Cutie Map calls Flurry Heart to solve a friendship problem in the very place that is currently having a clash of titans: the Midnight Kingdom. To make peace between the brothers, she must first locate an old familiar relic that may be the key to Tirek's redemption.
Inspired by the official show, this is part of a fan-made sequel series I created called "Flurry Heart's Story", which documents the adventures of Flurry Heart as she makes friends and faces new and familiar villains, some of which may still be redeemable.
Next story: Fillie Jean (coming soon!)
Flurry Heart's Story and its author are in no way associated with Hasbro or any of the creative team behind My Little Pony: Friendship is Magic. This series is entirely fan-made and is created in honor of the official show. No copyright infringement is intended or encouraged. Please support the official release.
Chapters (2)