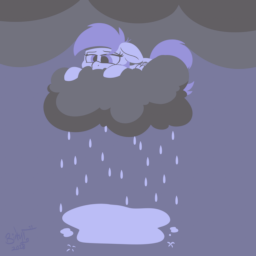 Source
Even though it seemed normal for her, Derpy's never been the best at breathing. When she panics, when she flies too fast for too long, or sometimes just randomly in the middle of the night, waking her up out of her dreams and nightmares. She's never known there was a solution for her problem, or for the other problems she didn't even know she had.
After Derpy's visit to the hospital, things in her life get more complicated than she feels like she can handle. What happens after that? Derpy tries her best, of course. That's all anypony can really do.
Written as part of a series of ongoing PG-13 commissions for an Anonymous donor.
Content Warning: Mild AU, depression/intrusive thoughts, realistic portrayals of mental illness and emotional trauma.
Please be careful reading this story if you suffer from depression or another mental illness. Some of the passages contained now (and especially later) may be triggering.
Chapters (8)