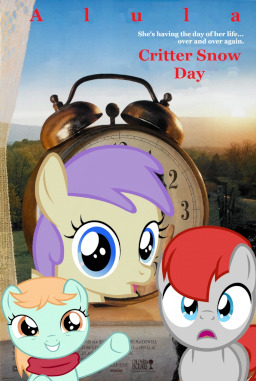 Alula is a filly with a goal. A goal that is unfortunately out of reach for her, because the goal she has is a colt called Train Tracks. And Train Tracks is in a happy relationship with Peach Fuzz. Peach Fuzz is Alula's best friend and that makes matters even more complicated.
But complications never stopped Alula before. She is intended to get what she wants and after one failed attempt, the universe suddenly seems to be on her side.
It's Critter Snow Day and then it's Critter Snow Day again. The day just keeps looping and for Alula, it is THE chance to win over the colt of her dreams.
The only question is if Train Tracks' heart is really what she needs. Maybe there is more out there and maybe, there is something that Alula can learn about herself.
Only one thing is for sure: The universe watches and it listens.
A ponified reinterpretation of the movie Groundhog Day. Inspired by "Best Gift Ever".
Additional Genre Tags: Comedy, Dark, Mystery.
Chapters (9)