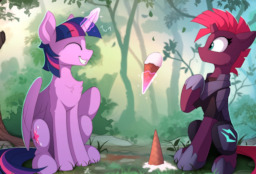 Source
This story is a sequel to The Armada Trilogy I: The Lieutenant
---
The Armada Trilogy: Vol. II
Beautiful Eyes
In the sequel to the successful mystery and second chapter in The Armada Trilogy, Tempest Shadow soon discovers that her past is buried under dust and can only be rediscovered if she returns to her hometown outside of Equestria. Knowing the size of this mad mission of hers, Tempest joins alongside Princess Twilight Sparkle, Princess Celestia and her trusty assistant Grubber and travels across Equestria and the lands beyond back to her old home.
However, behind everypony's back, Celestia starts to have thoughts that perhaps Tempest is a pony not to be forgiven and thinks of ways on how she can completely end her evil deeds... both harmless and not.
The sequel and final volume: Volume III: Unicorn's Horn
---
Image belongs to Yakovlev-vad.
Over 700 views! Thank you all so much!
Chapters (13)