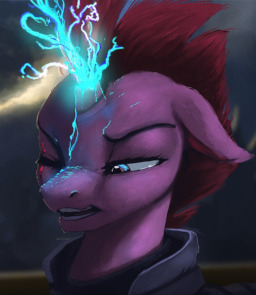 Source
At ten years old, she lost her horn.
At eighteen, she was promoted by the Storm King.
At twenty-four, she helped with the invasion of Canterlot.
For the whole of her life, Tempest Shadow has been lied to, even by her closest friends. It's only when Tempest learns the true meaning of friendship when the unicorn with no horn realises that not everything is all that it seems...
---
Volume I - you are here
Volume II - Beautiful Eyes
Volume III - Unicorn's Horn
PaulAsaran's Review*
*please respect the reviewer's opinion.
---
The image doesn't belong to me. It belongs to PaperDrop.
Prepare for Teen rated content!
Moderate violence
Description of flesh
Mild bad language
Disturbing scenes
Chapters (16)