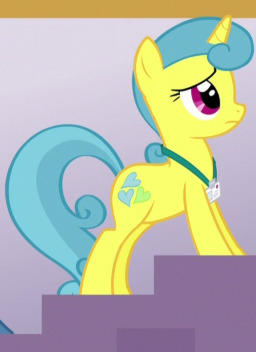 Lemon Hearts says she works at the palace. Lemon Hearts says a lot of things, only in the wonderful world of Equestria, there's a limit to how explicit her curse words can get.
She's not a passionate musician like Lyra, or a star-struck scientist like Twinkleshine. Sure as sugar she ain't no Princess of Friendship. Feeling like the one rotten fruit in a rich and healthy bushel cramps her style. At least, it would if she had any.
Soon, Lemon Hearts decides to do what she should have done a long time ago, when she'd otherwise been busy with her highly amusing and rebellious wealth redistribution activism (a.k.a. shoplifting). She decides to find out where she went wrong. Or wronger, at least.
And if she can earn some money out of it.
And whether or not her friends can help. Or, more likely, need help.
Chapters (6)