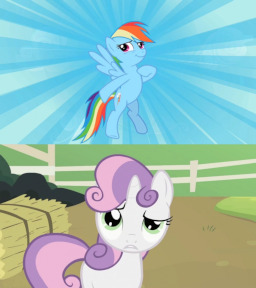 This story is a sequel to The Sister Sidestep: Apple Bloom
---
Sweetie Belle has spent most of her life trying to be like Rarity. That engenders a certain beau monde sophistication regarding one's life philosophy.
It ain't got nothing on Rainbow Dash, though, who'd probably think "engender" meant "make someone a boy or a girl". Assuming she knew words that long.
However, if these two ponies are going to spend a day together, they'll have to commit to it. But then, who knows? There are times when even beauty comes in the most unexpected and unlikely of forms.
And when it comes to picking things up on the fly, Sweetie Belle's nothing if not a keen student. Always eager to please a sister.
Chapters (1)