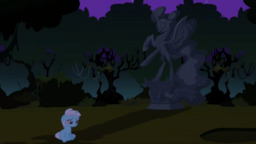 Once everypony has gone to enjoy the rest of the night, the great mystery of Nightmare Night remains: what really happens to all that delicious candy when nopony else is around? Does Nightmare Moon gobble it up, or is there something even more sinister (and entertaining) at work?
Bloo knows. Bloo's mother knows too. And the problem is that once everypony else has had their fun, the other side of Nightmare Night has barely any leftovers of fun worth talking about.
Perhaps this year will be different. There's a special guest at this year's Nightmare Night: THE special guest. And in the gathering darkness, maybe Bloo will see the light more clearly than ever before...
Chapters (1)