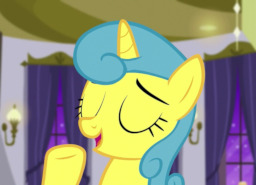 Lemon Hearts is an Equestrian matchmaker. That's sort of like a doctor for ponies with a very specific and persistent disease. And like most doctors, she hasn't picked the soft option.
In the magical land of Equestria, even love isn't a fairy tale. Not all the time. Certainly not forever after.
Of course, she's got the backstage pass to love: the black, unsavoury-looking one that lets her access all floors, including its classy penthouse apartment. And its rotten underbelly.
Mad couples, unhealthy habits, lots of cider, and a princess who's a little too perfect... You gotta laugh, because you're not allowed to cry...
Chapters (1)