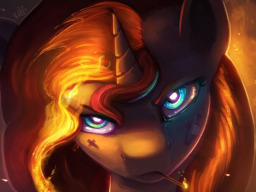 This story is a sequel to The Unicorn and her Boy
---
Trapped in the memories of her past adventures, bringing nightmares and dreams she does not want, she can't stay home.
There is only one creature in all of Equestria who can help her. Make her good and nice again, but how far will Sunset have to go to find her?
--------
A sequel to the Unicorn and her Boy. Reading not required but recommended.
NB! The story contains some very mild elements of [Gore] and while it contains no graphic descriptions of sex, it does raise some rather uncomfortable sexual themes.
Chapters (8)