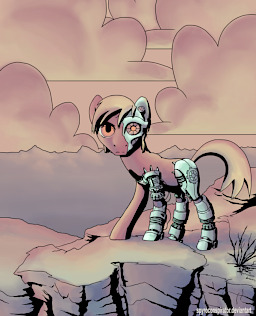 Source
"The only thing I can remember is waking up in a clinic, sealed inside a room..."
Nearly two hundred years after the Great War, an earth pony awakes from stasis in a Ministry of Peace clinic -- parts of his body replaced, and his memories gone. Without knowing anything about what awaits him, he leaves the safety of the clinic for the Equestrian Wasteland, in search of that which he can no longer remember.
If you rather would read on Gdocs, there is a link to all chapters Here
A huge thanks to Kkat for creating the wonderful Fallout Equestria and giving me a world to play around in. If you somehow have managed to miss Fallout Equestria, then it can be found Here
Cover created by SpyroConspirator as a commission from Tonto The Trotter
Also, a huge thanks to Arcane Scroll, the creator of the site Fallout Equestria, for creating a site where everyone, be it reader, author or artist, can meet and discuss Fallout Equestria, and all its side stories, with like-minded!
Chapters (12)