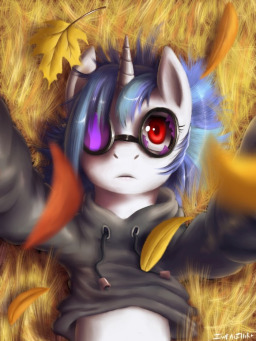 Source
"My life has run its course; I've planted my hooves firmly on the ground and ridden the ups and downs to my greatest potential. I've loved, I've hated, I've cried, I've laughed... but most importantly, I've overcome."
A simple life, floating on the wind.
Brace down and buckle up as you are taken along on the wicked rollercoaster ride that is Vinyl's life. Stand beside her as she first learns of her talents as a musician. Hold her hoof as she braves whatever life throws at her while buskering on the streets of Manehatten. Cry with her as she faces old fears and overcomes new ones. Cheer and revel in her marriage and success. Laugh wholeheartedly at her comedic small mistakes and happenstances.
Most importantly however, understand the rocky and twisted road that shaped the DJ we have all come to know and love.
Chapters (23)