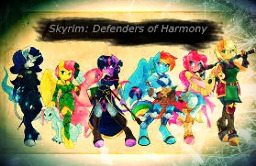 When Alduin was defeated and sent forward in time by the Elder Scroll, he was sent to Equestria in the process. Now he has returned and has wreaked havoc on Ponyville before making his way to Skyrim. The Mane 6 pursue him to stop him from fulfilling his goal. When they arrive at the border, they are caught in an imperial ambush and taken to Helgen to be executed.
However, Alduin attacks and ends up aiding them in their escape. The Mane 6 shall make friends and enemies along the way. When they are forced to kill a dragon attacks the Western Watchtower in the Whiterun hold. One of the six will soon discover that they are the legendary dragonborn, meant to defeat the World-Eater.
The legend of the dovahkiin has begun.
Chapters (3)