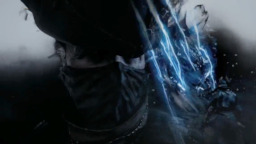 Lagnus the Raven is a old and very experienced hunter who was once one of the many close apprentices of Gehrman the First Hunter, but what happens when Lagnus is finally killed and ends up in Equestria? Lagnus now finds himself in a alien world filled with pastel colored ponies. Lagnus may think his hunting carrier is over now but little does he know a group of mages with evil intentions had came with him to Equestria. Now the hunt shall begin again...
Warning if you don't know Bloodborne lore or have a rough idea of its story you won't get most references in the story and be able to put together what it all means. But if you wish to continue anyways be my guest. I have also but my own twist into the lore so just be warned lore obsessers. Lore is meant to be taken differently for everyone so if its not up to what Vaati Vidia, or Silver Mont says the lore is remember all lore is interpreted differently for each person!
Anyways guys I have worked for a good month to get this first chapter and the story in general to be up and running so I hope ya'll like it, and I hope it does well!
Editor: Requiem17
Chapters (2)