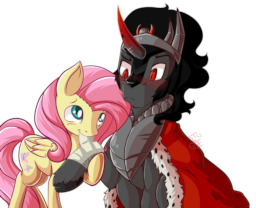 When Fluttershy goes into the Everfree to pick some berries for her date, she finds an unconscious pony near death. Normally, she would help them straight away but there is just one problem... It's King Sombra.
This is Sombra-Shy so if you don't like it, don't read it! This is my first story so please don't judge me

Cover art by the fabulous Evehly. Inspired by the amazing story Non-Entity by Woolly and fantastic Bride of Discord by DisneyFanatic23. Enjoy!

Chapters (5)