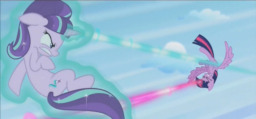 (Contains some S5 finale spoilers, just in case)
With their battles across time itself drawing to a close, Twilight finally seems to be getting through to her nemesis, Starlight Glimmer. But is it possible to reason with a pony so deeply convinced of their own philosophy that they cannot see true friendship? And if not, what must she do to make sure that such a danger never threatens Equestria again?
---
So, that season finale eh? I'll be honest, it probably would have worked better if the pace in part 2 hadn't been rushed so hard it went full blitzkrieg. This is just my own short idea of what could have gone down, while also tying it in to the events of the Quickverse. Hope you don't mind it!
Update: And then it had two stints in the popular stories? Wow, I've no idea what I did right but I'm glad you all generally like it. Thank you!
Rated Teen for psychotic pony murder attempts.
Chapters (1)