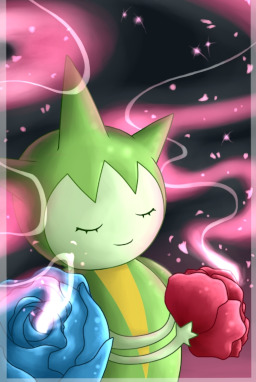 Source
A side story to A New World, a New Way by zeusdemigod131
---
One is a panicky gossip, and knows more about the matters of other hearts than she should—if only she knew about her own as much.
One is a fiery flower mare who wilts lamentingly at the thought of her lucky little clover being picked by another—the luck in her own name only helps somewhat in that regard.
One is the hard-faced big sister, the strong stem that holds a family and a business all together—all the while hoping that she doesn't end up like her mother.
One is an alien, kidnapped and brought to a new world against her will, along with several others—though the heartache of losing her guide to the void of changes cuts much deeper.
Four ladies in a world flipped onto its head, each looking for something stable to hold, to see, to feel.
---
Proofread by MoldyShishkabob
Chapters (4)