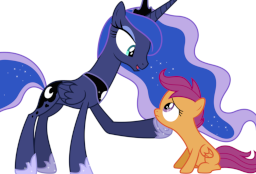 Source
Scootaloo is one of the most successful Pegasi of her age. Having grown up, she's set flight records, graduated, and has even started dating. Too bad she still doesn't have her Cutie Mark.
A late night dream-talk with Luna sets her wondering to what her true destiny in life might be.
Then Discord shows up and things get weird.
WARNINGS: Discord being meta, SPOILERS for multiple FIMfics including End of Ponies, Fallout Equestria, Rainbow Factory, Bad Future Crusaders, The Substitute Demon, Filly of the Apocalypse
Vector Cover Art done by 90sigma
Chapters (1)