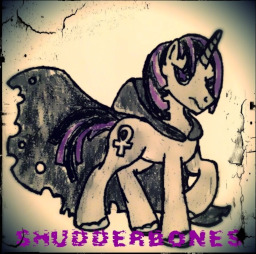 Shudderbones: The Necromancer of Flame Geyser Swamp
by SkelePone
The Cutie Mark Crusaders (or rather, The Cutie Mark Crusader Paranormal Investigators) go on a late night escapade to see if the stories of the evil necromancer are true. Of course, they bite off more than they can chew, but is this for the best? Or is the shadowy bogeystallion chasing them through the night out for blood?
Shudderbones has accepted the Apples as his new family. Big Mac is like a brother. Apple Bloom and the other Crusaders are like younger sisters.
And Applejack... Applejack was the mare that he knew his heart belonged to.
But with a disturbing fetch of himself appearing to him in dreams and mirrors, Shudderbones is afraid of losing his one chance of being happy.
DJ-Pon3's recommended listening list:
Meg & Dia - Monster (Story Theme)
The Living Tombstone - Jumping Devil (Shudderbones' Theme)
16bit - Classical (Bones Manor Theme)
deadmau5 & Rob Swire - Ghosts N Stuff (Shudderbones falls for Applejack)
Skrillex - Ease My Mind (Applejack & Shudderbones' Grand Galloping Gala Scene)
Borgore & Skidope - Unicorn Zombie Apocalypse (Nightmare Shudderbones' Theme)
TNGHT - Acrylics (Corrupted Castle Theme / The Taking of Canterlot)
Klaypex - You Mad (Oscurdia's Theme)
Klaypex - Manners (Shudderbones Exorcising Scene)
Doctor P - Bulletproof feat. Eva Simons (Storming the Corrupted Castle)
Kap Slap - Two Million Atoms Raging feat. Avicii, Knife Party, and Ryan Tedder (Shudderbones and Applejack)
Xilent - Gravity feat. Tali (Additional Shudderbones and Applejack)
Want to read chapter drafts before they're published? The password is shudderbones.
Cover image is Shudderbones by myself (my DeviantArt is dr-steampunk)
it was honestly a quick sketch, so don't judge TOO harshly, it's just to give a basic idea of what Shudderbones actually looks like.
Yes, he is supposed to be tall and thin.
His mane and tail styles are exactly what they are supposed to look like.
This not Nightmare Shudderbones or Oscurdia.
If you are able to sketch a better cover, please feel free to do so. The only credit I'd like is having the drawing titled Shudderbones somewhere and to have me, SkelePone, as the OC's owner. Otherwise you could use the image for whatever else you wanted.
If you would like to write a story about Shudderbones, feel free! If I approve of it, that means your story will be canon with the Shudderbones universe.
Chapters (16)