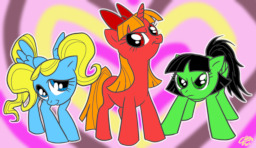 The latest scheme of a Townsvillain hurls the Powerpuff Girls to another dimension. In new bodies, and with different abilities each, the three must adjust to life in Ponyville. It helps that the locals are friendly. Maybe the Girls can have actual friends for once, rather than admirers...?
This was actually my first foray into MLP fanfiction. I wrote the beginnings of this long before I conceived of Pony Fantasy IV. So, enjoy my attempt at crossing Lauren Faust's two popular girl shows!
Image courtesy of GalooGameLady on DeviantART. Used with her permission.
Chapters (3)