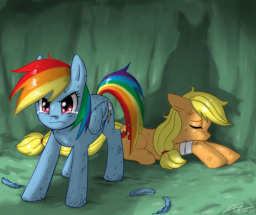 There's one particular pony who is unaccustomed to defeat. She has never backed down, never given up, and always plowed on through adversity with a shining determination. Even when detained and questioned about her friends whereabouts and actions, Rainbow Dash remains steadfast, loyal, and never knows when to quit.
This was just a small idea I had while brainstorming. It's a story to get me back in to the creative description mode that I need to fall in to write a really really really good story.
What was I supposed to tag this anyway? Oh well. Critical comments preferred.
Chapters (1)