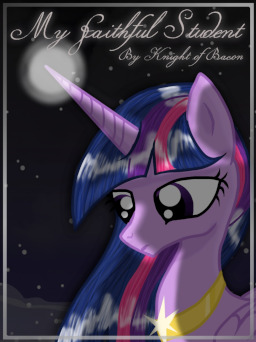 All life fades. This is fact.
Four alicorn princesses: The Sun, the Moon, Love, and Friendship. They share the weight of immortality equally. Equestria is in their hooves, and they're trusted by its citizens. It is their duty to defend and protect, for justice to prevail over all.
So when Applejack dies, it's not unexpected. But as the Tree of Harmony slowly withers, Twilight realizes she is the last Element of Harmony. Equestria is now left exposed and defenseless to attack.
With her cocky and dynamic student, Flash Freeze, Princess Twilight must slowly come to terms with immortality and find the five new Element Bearers before it's too late. And even though Flash Freeze loves her dearly, the youngest alicorn princess can't bring herself to commit to his tutorship.
Because all life fades. And so will he.
--
Artwork~
Twilight's New Student
Flash Freeze Today
Flash Freeze Sketches
Story Preview
Chapters (2)