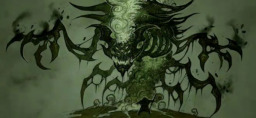 Kyle Slater was your typical soldier in the Alliance army. He was one of the few Human monks, but aside from that there was nothing truly remarkable about him. However, when the Iron Horde began their initial invasion of Azeroth, the unstable Dark Portal hurled Kyle across the universe to an uncharted world.
This strange new world appeared friendly and inviting, but dark forces threatened its safety. Facing a familiar foe he had hoped to be defeated, Kyle was forced to rely on his strength and wits to survive. Still, he was a soldier of the Alliance. This wouldn't be a problem. He was prepared for anything.
Except, perhaps, colorful talking Ponies.
---
World of Warcraft crossover
Beware the comments - They contain spoilers.
First Fic attempt. Please let me know what you think and where I need to improve.
Featured 10-29-2014! Holy cow, you guys are awesome!
Goodfic Bin approved!
[img]http://s13.postimg.org/5a2dthj87/Giz_Vyc0.png[/img]
Chapters (50)