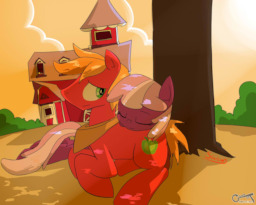 The life we knew, much like the childhood we all experienced at one point in our lives, is no more. We lived through the tough times. Granted, some may have been easy, and some may have been excruciatingly difficult, but we are the ones who have lived through life with premature intentions that meant no harm. We wanted to live it, as we craved adventure and pleasure, knowledge and acceptance.
But we have lost the way...
The noble, honest ways of old are no more. Life is no longer life in all it's previous meaning and sense. You can cheat, lie, thieve and deceive your way through it and not a single thing will happen to you, and even if some punishment DOES come, you'll just get slapped on the wrist and be told not to do it again.
Everything is so easy now, when back then, everything was very much the opposite.
This is Big Macintosh's story--his struggle--to find a way through the world of today, keeping his cool and finding ways to get through the troubles that it throws at him.
But he's not the only one who feels like this. No.
Chapters (1)