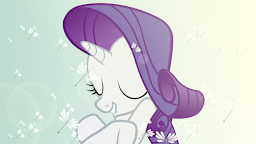 [THIS IS A KINDA SORTA SEQUEL TO MY STORY, 'ERASE THIS'. YOU MIGHT WANT TO READ THAT FIRST IF YOU HAVEN'T ALREADY, EVEN IF IT SUCKS CUZ IT'S AN OLDER STORY EELL OH EEEL]
Zor is now a very respected, legal citizen of the land of Equestria, and lives a pretty average life in the city of Ponyville, despite his otherworldly origins. After he fell from his home in the clouds—the only Hell he ever knew—he lost all of his previous memory; thank goodness. Now, he resolves to create a brand new life in the world below, the only heaven he will ever know.
One day, he unexpectedly receives a letter from Rarity, who was the town's very own seamstress and boutique owner. Now, she operates her own designer name under her own corporation as well. She gives him the proposal, or privilege, to work alongside her and be her second in command. Seeing as she seems to trust him completely with no prior knowledge about him, other than his reckless feat of saving a life in the past. he accepts and heads to the Crystal Empire, where she both works and resides.
Love can never be cut short of credit when you know that it's real, even from the very beginning. Take the opportunity to show that you care with all your heart. Don't pass up the temporary, one-time chance to be happy forever for all time.
Please... Do it for the sake of everything you have ever lived for. Do it for everything that you WILL ever live for. Because without it...you might as well just throw your life away.
Chapters (4)