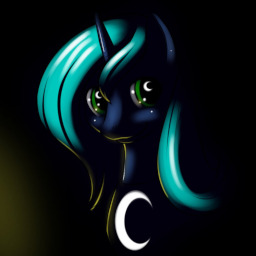 In the slums of Canterlot resides Princess Luna and the family she never intended on having. Her daughter, Woona, does her best every day to heed her mother's words and get away from the hell she has no choice but to call home; from her overly abusive father. She swears up and down that he can't be her dad, but the truth is as sad as the events that unfold whenever she tries to escape.
She's scared of the unknown.
However, an assumed imaginary friend returns to manipulate the child, but for the better. NightMare Moon, the evil entity that once enveloped the Princess of the Night, takes Woona under her wing and, with the help of her lifelong friend NightFlame, helps her face the world that she was forcefully banished from.
Chapters (2)