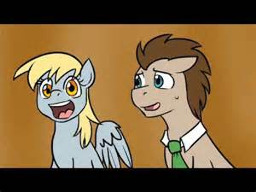 Inspired by Twisted Spectrum's Five Score, Divided By Four, a story that has become the most recently popular Human to Pony Transformation fan fiction on /mlp/
Jenny Smith was a substitute professor for a local community college before the changes began. It all started on the day she turned twenty five, at the exact time. Her thigh burned and itched, and when she looked, it was a pastel colored hour glass that caused her so much trouble.
She, along with her friend named Dana, are slowly turning into ponies. But Jenny will soon find out, that not only is she becoming a pony, but also something more than that. Not only is she turning into a pony, but a certain alien that is the last of his kind in the whole universe.
This is my contribution to the Five Score, Multiplied by More group. I've always wanted to write about the adventures of people turning into ponies myself, so I decided to write a few fictions. This one is a bit less original, as it is in the Five Score universe, but it will eventually be a much more different story than most, as a certain famous alien that is the last of its kind is the main character in it.
Hope you enjoy reading!
Chapters (7)