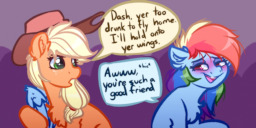 Source
It's been a long, long time since Rainbow Dash and Applejack got together, but Rainbow still remembers it like it was yesterday. Which is surprising, really, considering how very drunk she was at the time. Well, whatever. The grandkids are over, and maybe story-time will keep them quiet for a bit. It's good to be optimistic, anyway.
A short exploration of just what it means to win.
Written for the Appledash Warm and Fuzzy Feelings Event! Go check out the other stories and have your heart warmed here!
Chapters (3)