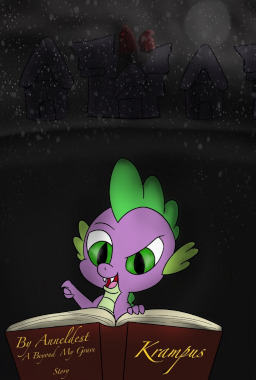 This story is a sequel to Beyond My Grave: The Series
---
They say that Hearth Warming is a time of giving; that it brought happiness and unity to the land of Equestria. The story of the giving spirit has become quite popular and is a stain upon the Heartwarming holiday. However, many have forgotten the dark ages of old. They have forgotten that the spirit of Heartwarming was not a right, but only a privilege.
Despite this, the dark spirits still linger and watch from the shadows. They have not forgotten their duty to right the forgotten meaning of the holiday. While it has gone unnoticed for many years, the raging storm of the dark spirits still comes to the surface. When belief is forgotten, and the Heartwarming spirit dies, a much darker ancient spirit will come.
And he only comes with one gift.
Warning: Some scenes may be too graphic for some readers
Cover made by Snow Quill
Editor(s): ShadowStarEX
Note: This takes place after part one of Beyond My Grave: The series.
Chapters (3)