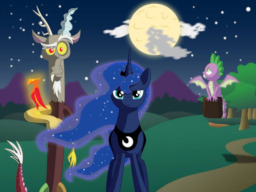 Source
This story is a sequel to Beyond My Grave: Night Terrors
---
(I decided I wanted to go back and redo this series. And this story is just not that good nor would work anymore. So this is no longer canon. I won't delete it but it's not a part of the series anymore.)
Since the three months after the event at the Crystal Empire, after a dream, Discord and Spike try to locate and find Silver Blitz. Meanwhile, Luna is dealing with the stress of helping a family with a child who is having some strange nightmares along with keeping her powers away from Celestia.
But all of that would be interrupted when an old friend of Luna's returns with some unexpected surprises. It turns out that he has some supernatural powers of his own which unfortunately comes with supernatural consequences.
Warning: Some scenes may be too graphic for some readers
Editor(s): ShadowStarEX
Cover: made by miipack603.
Side Note: This series does go along with the comic books more than the show. I think I made that clear but I'll say it now just in case for those who don't know. Meaning, this story is after the comic book series The Nightmare Knights. If you don't know what that is, click on the links below. It's actually a really good comic book series.
https://mega.nz/#!EfhTQKZZ!FKl4TNm2x4cK_wyEE3OUKgLdLYpdQ2mHvXuyjnV-lWg
https://mlp.fandom.com/wiki/Nightmare_Knights_Issue_1
Chapters (33)