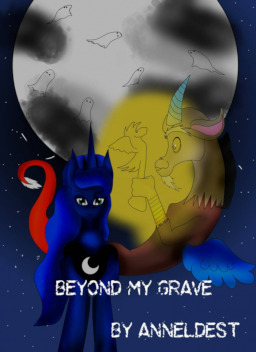 This story is a sequel to Beyond My Grave
---
With everything calm down and peaceful, Luna is now trying to keep her powers under control. While Spike tries to learn more about the supernatural, Luna and Discord try to move on with their lives. However, they soon find out that their story is just beginning.
It starts off when Celestia plans a week trip to visit Shining Armor and Princess Cadence after Cadence starts experiencing some depression. Celestia brings Luna along in hopes to get her and Cadance to know each other better. And in hopes to please Celestia and Cadence, Luna buys Flurry Heart an old antique toy. Not knowing that the toy originally belonged to a young dead mother looking for her lost daughter.
Warning: Some scenes may be too graphic for some readers
Editor(s): ShadowStarEX and TheMysteryMuffin and Shimmer Bolt
Cover: made by CrimsonRose97
Side note: Also, I would like to point out with the coming of the end of the series, I made a quick decision. That decision is that the first book takes place towards the end of season 7 and the second book takes place at the beginning of season 8. That's all.
Chapters (22)