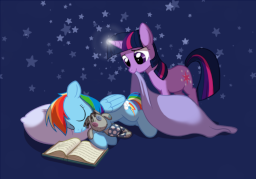 Source
When Rainbow Dash gets sick and can't fly home, she goes to see her friend Twilight.
That particular unicorn just so happened to be in love with the blue pegasus, and that blue pegasus happened to feel the same way, it just comes down to if they can get over their insecurity enough to let truth come out.
LINKS TO ART:
This is my first attempt at a romance so if it needs improvement, I'm sorry, and tell me how to improve it.
EDIT: I have never learned how to properly write a book so I will be making revisions while it's posted.
Chapters (1)