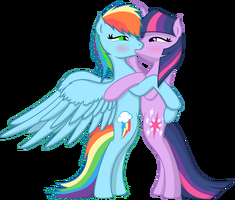 STOP! Read Best Friends Forever FIRST. Rainbow Dash loves her mare friend Twilight to death. But does she love her enough to reveal the secret shes been keeping
since she was a foal. A secret no pony knows, a secret Fluttershy almost guessed once. A secret that could end their friendship and put all of Equestria in danger. Will the element of loyalty reveal he secret and risk losing Twilights love, or will she try to keep it longer and risk losing that and more when they discover who, and what she is.
Sequel to Best Friends Forever, There isn't as much Twidash romance in this story.
Chapters (3)