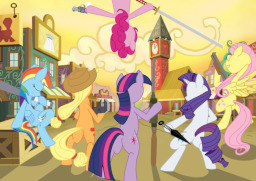 Twilight tries to find a important artifact for Luna and discovers a strange object unlike anything she has seen before. After accidentally activating it, Twilight and her friends find themselves in a new world, locked in seemingly eternal combat. Will they have what it takes to survive and adept to the new world, find the now missing Cutie Mark Crusaders and return home?
This fic is mainly a tribute to my friend http://www.youtube.com/user/Sakojima5555 and their videos, though the story is my original deign.
Please note, I in no way shape or form claim any ownership or anything of the sort to My little Pony Friendship is Magic or Team Fortress 2. They belong to their creators and please support their official release. Thank You.
Chapters (21)