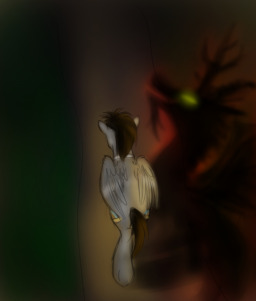 Source
The Doctor's sanity was never something he worried much about. But the weight of the guilt inside him, and the corruption that builds within him has pushed even his considerable mind to the edge near madness. The choices he has made have now come back to haunt him as he seeks not only a path for his future but redemption for his past.
This is inspired by the amazing Discorded Doctor Whooves Tumblr http://askdiscordwhooves.tumblr.com/ created by http://balddumborat.tumblr.com/
and is a crossover between that universe and Amnesia. This song is also a great inspiration to the story as well: http://www.youtube.com/watch?v=Wr_6LAivHdU
Note: I own nothing of course and am in no way affiliated with BDR, Hasbro, or anything else.
Chapters (3)